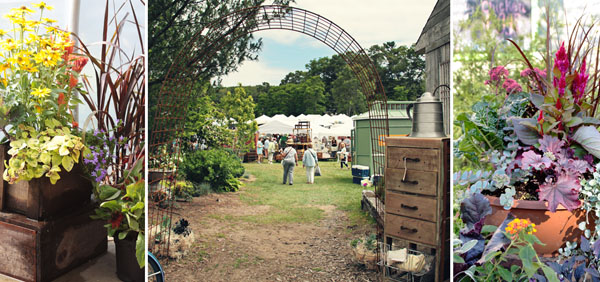 Autumn is Knocking on Our Doors!!!
As the children go back to school and vacation season comes to a close, we look forward with great anticipation to autumn weather, sweaters, bright foliage and cool nights. Over the summer months most of our gardens and containers have suffered greatly from the intense heat and lack of water. A recent long term weather report predicts warm weather through the end of October. We have some interesting, vibrant fall plant material to help revitalize your outdoor living space. A reminder also that our garden maintenance (Petal Pushers) will be available to do any fall clean ups and/or last minute plantings.
We wanted to keep you updated about what is going on around the farm over the next few months. Our Fall Vintage Bazaar takes place on September 24, and 25. There is a great music festival planned, new vendors and lots of great shopping to be had by all!

The Farm will be closing on October 10, as we prepare a Winter Wonderland for your shopping enjoyment. We have collaborated with Excentrique of West Newbury to present to you 'A Holiday Marketplace'. We will be offering you and your friends not only a wonderful way to share in the excitement of holiday preparations, but also an environment for your to learn new ways to adorn your homes with seasonal splendor as well as a marketplace to purchase the treasures and materials that will bring it all together. We are looking forward to sharing with you this collaborative, creative experience of Holiday decorating and design in a whole new and exciting way. Stay tuned for our scheduled opening and our list of classes being offered during this first time event!

Don't forget to check out what else have going on here at Pettingill Farm.
• Horticultural Bus Tours
• The Vintage Bazaar
• Order up a Garden
• Custom Designed Containers
• petal pushers

Stop by and see us and enjoy the charm of our old country farm and thank you for being a part of our lives.
Warmly,
Jan and Henry Richenburg
and our dedicated farm crew
_________________________________________________________________
A gift for any season or special suprise!
For that hard to buy for friend or family member!
Please call us at 978.462.3675 or email us at info@pettengillfarm.com, providing us your Name and contact infomation as well as with the Name and Address of the special person you would like the gift certificate sent to and we would be happy to help you suprise them with this special gift!